Become a Supporting Member of the South Lake Fire Safe Council for only $30 per year. Supporting Members are entitled to receive up to 4 hours per year free chipping, within the boundaries of the South Lake Fire Protection District. At this time our chipping costs are subsidized by a grant so there is no additional cost.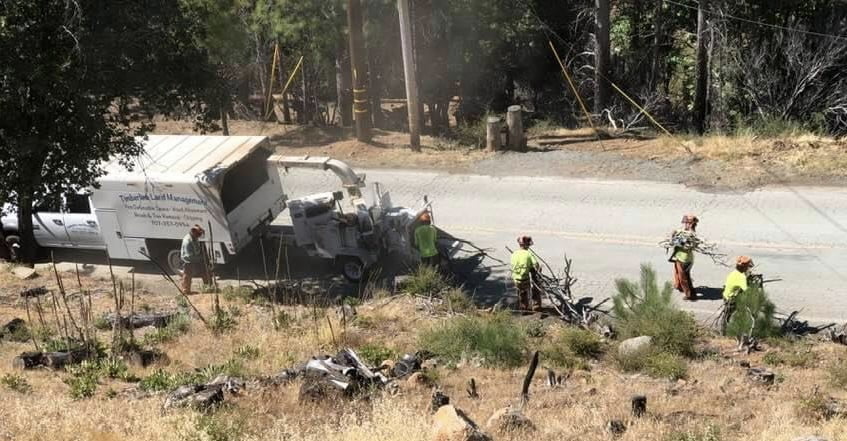 Tips to ensure safe and productive chipping
Brush, tree limbs and trees must be smaller than 6 inches in diameter and shorter than 12 feet.
Stacks should not exceed 5 feet high and 4 feet wide. They must be organized neatly, with space between the stacks, for the workman to bend over, pick up the stacks and take them to the chipper. If space allows, spreading out the stacks is appreciated.
Material must be stacked adjacent to roads and accessible to our contractor's equipment without having to be moved. All cut ends facing the road.
Material must be free of rocks, dirt, berry vines, poison oak, oleander, scotch broom, tree stumps or construction materials of any type.
Bulldozed or machine stacked piles cannot be processed. Piles cross stacked or stacked too densely or compacted will not be chipped.
Property address must be clearly visible where piles are stacked.
Material must be stacked so traffic is not impacted and crews can work safely.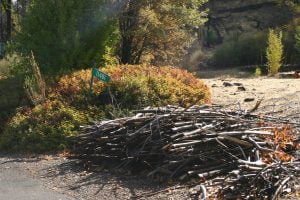 Chipping Dates 2023
| Chipping Dates | Documents Due By |
| --- | --- |
| April 5, 6, 7 | March 29 |
| May 22, 23, 24 | May 10 |
| June 14, 15, 16 | June 7 |
| July 17, 18, 19 | July 12 |
| September 25, 26, 27 | September 13 |
| October 25, 26, 27 | October 11 |
To submit a request for Chipping, complete the form below.
Each time you request chipping in a given year, you must submit a Chipping Request Form and the Right of Entry Form. For the first chipping request of the year you must also submit a SLFSC Annual Membership Application Form and a $30 Annual Membership Donation.
Subsequent requests for chipping during the same year require new request for chipping form and right of entry form.
Right of Entry
Permission is hereby granted to the South Lake Fire Safe Council, its officers, employees, designees to enter upon our land for the purpose of chipping brush and debris and all incidents there to, pursuant to the requirements of the South Lake Fire Safe Council's fuel reduction program.
This is not a request for a permanent easement and/or right-of-way, and this permission will automatically terminate upon the completion of the work.
Indeminification-Hold Harmless Agreement
COUNCIL to indemnify OWNER against loss or damage caused by any wrongful or negligent act of South Lake Fire Safe Council, its agents or employees in the course of their employment as may be provided for in the California Entity Tort Claims Act.
COUNCIL further indemnifies and hold harmless OWNER from any and all claims, lawsuits, losses and damages, brought for, or on account of, injuries to or death of any person or persons arising out of, or alleged to arise out of, or resulting from its agents or employees on the property.
If you prefer to submit a Chipping Request by mail, download the Right of Entry and Chipping Request forms and mail to:
P.O. Box 1773
Middletown, CA 95461